The Emetophobia Recovery System is also now available in a convenient Print and CD format that can be shipped quickly and discreetly to your home or preferred address.
Take a look at all you'll be receiving with your order:
The Emetophobia Recovery System Manual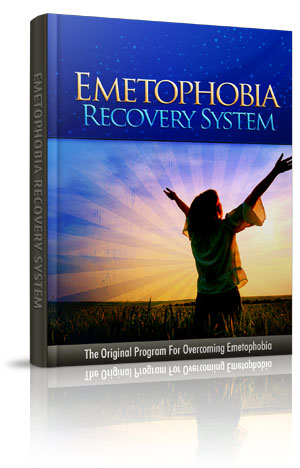 The Emetophobia Recovery System Manual is a complete guide to overcoming your fear of vomiting. It walks you step by step through exactly what I think you need to be doing in order to replace your current negative, scary, and irrational thoughts about vomit and illness with thoughts of security and confidence, how to throw a monkey wrench into the gears of your anxiety cycle and bring your anxiety to an abrupt halt, and how you can learn to "flip the switch" and shut down your panic to get back to feeling yourself again.
The Audio Version of the Emetophobia Recovery System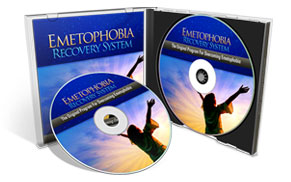 Now you can listen to the Emetophobia Recovery System on your computer or iPhone, at the gym, in your car, or wherever you have time or want that extra motivational boost. You'll get the complete, unabridged mp3 audio version of the program with your order.
The Emetophobia Recovery Audio System (E.R.A.S.™)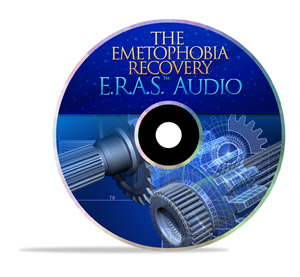 The Emetophobia Recovery Audio System (E.R.A.S.) is going to be a resource you come back to again and again throughout your recovery to help you quiet your mind, practice your skills, and begin changing your life using "virtual" exposure sessions.
You'll receive three specially developed audio's created specifically to work in conjunction with the other Emetophobia Recovery System material. These exclusive audio tools are ONLY available as part of the program, and I consider them CRITICAL for anyone seeking to overcome their fear.
In the first track, I'll speak to you directly and work with you to calm your reaction, should you find yourself in an anxiety producing situation or preparing for one. In just minutes you can find yourself very quickly feeling much more in control, at peace, and self-assured about whatever challenge may lay ahead.
In the second and third tracks, I'll guide you through an incredibly powerful audio session that can allow you to slow your thoughts, bring you back to the present moment, and allow you to practice the skills you'll be learning in the Program in a safe, comfortable location of YOUR choosing at YOUR pace.
Used in conjunction with the other materials included with the Emetophobia Recovery System, I"m confident you'll find the E.R.A.S. Audio is a indispensable tool to help you retrain your mind for success and peace instead of anxiety, obsession, or panic.
The Emetophobia Mastermind™ Audio Series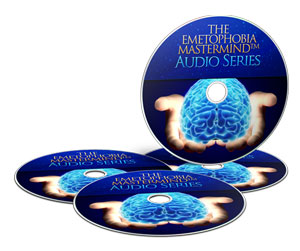 In the Emetophobia Mastermind™ Audio Series, I interviewed who I consider some of the most influential and recognized names in psychology and mental health to get their advice, tactics, and recommendations for overcoming emetophobia. I think you'll find this is the FIRST TIME a panel of experts such as this have been assembled to speak exclusively on the treatment of emetophobia.One of the most critical aspects of overcoming emetophobia is thoroughly understanding your condition and the variety of strategies and options available.
In these in-depth audio interviews, you'll learn a wide variety of methods, strategies, and tips you can start using TODAY to feel better.
The complete audio series is OVER 2 HOURS of exclusive information on emetophobia you won't find anywhere else!
The Emetophobia Recovery System manual will be delivered in printed format, and all other material will be on a series of compact discs that you can use in any CD player, your car, at home, or even put on your iPod!
And you still get our 100% money back, no questions asked guarantee.


Click below now to order the Print and CD Edition of the Emetophobia Recovery System and get it delivered quickly and discreetly right to your door!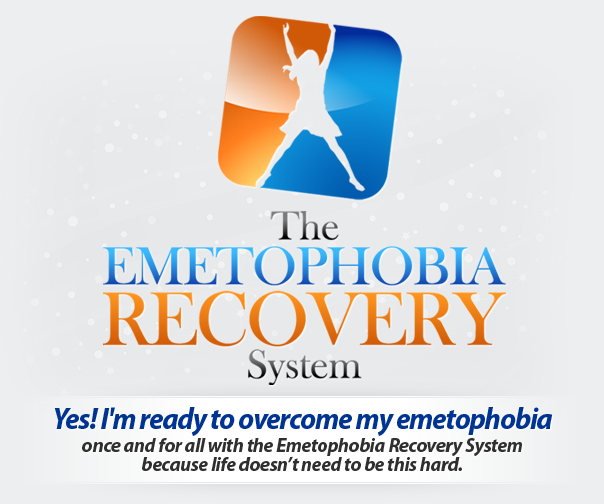 Print and CD Edition of The Complete System – I understand that I'll be receiving the Print and CD Edition of the COMPLETE program shipped to the address of my choosing, which includes everything outlined above…the manual, audio version, E.R.A.S. Audio, and the Emetophobia Mastermind Series.
100% Money Back Guarantee – I understand that my results are completely guaranteed. If I'm not completely satisfied with the program, I have a full 8 weeks to take advantage of the no questions asked, no hassles guarantee and get a complete refund of every penny I paid.
Developed With A Doctor – You know you can trust the program because it was developed with Dr. Cheryl Lane, a Doctor of Clinical Psychology.
Completely Natural – The Emetophobia Recovery System is designed to help you quickly change for the better by helping you train your mind to alter negative thought patterns and habitual reactions that can cause your anxiety and fear, and NOT with alcohol or medications that can cause dangerous and bothersome side effects, leaving you feeling sedated and MORE out of control, or merely masking your symptoms without addressing the REAL problem.
Break the Cycle of Emetophobia – The goal of the system is NOT to simply help you "cope" with your fear. Why learn to live WITH your emetophobia when you can learn to live WITHOUT IT? I don't think you should be satisfied until you've learned to END the destructive mental habits and reactions that create the problem!
All of this is completely guaranteed and only a single secure payment of $119!